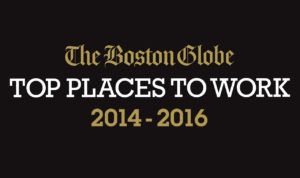 In 2014, 2015 and 2016, New England Organ Bank was chosen as one of the region's Top Places To Work.
Each year, the Boston Globe surveys workers around Massachusetts to determine the places of employment that best meet the needs of its employees. In 2014, 1,660 companies were invited to participate and 366 completed the survey process. In all, more than 73,000 employees completed confidential questionnaires to rate their employers according to factors such as pay and benefits, connection to mission, managerial support and motivation.
New England Organ Bank scored as the highest ranked mid-size non-profit in the Commonwealth. Read about one of our employees featured in the Boston Globe.